India's First Female Merchant Navy Captain Wins International Bravery Award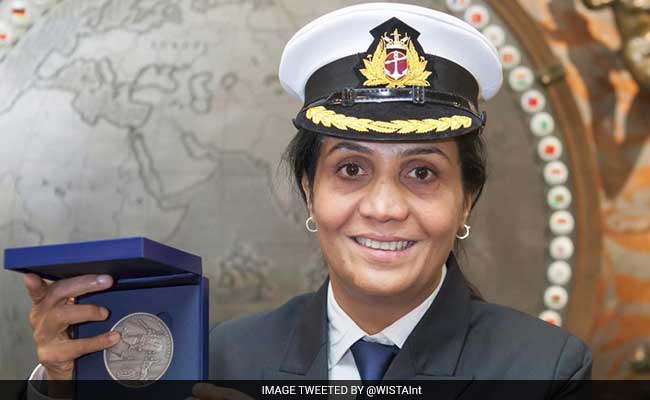 India's first female Merchant Navy captain has become the first woman to be awarded by the IMO for her exceptional bravery in the dramatic rescue of seven fishermen from a sinking fishing boat in tumultuous Bay of Bengal waters last year.
Captain Radhika Menon received her medal and certificate of commendation at an awards ceremony at the International Maritime Organisation (IMO) headquarters here last evening.
"I am honoured and humbled with this great honour for me and my team. It is a seafarer's duty to help souls in distress and I did my duty. Seafaring is a noble profession which contributes massively to world trade and economy as well as cultural integration. It does not always get the recognition it deserves," said Captain Menon in her acceptance speech.
Ms Menon, who was nominated by the Indian government, became the first woman to receive the IMO Award for Exceptional Bravery at Sea, an annual award established by IMO to provide international recognition for those who, at the risk of losing their own life, perform acts of exceptional bravery.
"Seafaring is a gender-neutral profession and if you work hard, like in any other field, you will win appreciation," said the Kerala-born ship captain.
Her award related to her successful rescue of all seven fishermen from the fishing boat 'Durgamma', which was adrift following engine failure and loss of anchor in severe weather. Food and water had been washed away and they were surviving on ice from the cold storage.
Through wave heights of more than 25 feet, winds of more than 60 knots and heavy rain in June 2015, the 'Sampurna Swarajya' vessel operated by the Shipping Corporation of India Ltd spotted the boat 2.5 kilometres away, off the coast of Gopalpur, Orissa.
Ms Menon, who was in charge of the vessel, ordered a rescue operation, utilising the pilot ladder, with life jackets and buoys on standby.
It took three arduous attempts in the lashing wind and rain before all seven weak and starving fishermen, aged from 15 to 50 years old, were brought to safety on board the ship.
"This act of exceptional bravery and the award will go a long way in raising the profile of this great profession. We will plan a publication to publicise this widely," said Dinesh Patnaik, the Indian Acting High Commissioner to the UK.
The IMO Council had also endorsed the recommendation of its panel of judges that out of a total of 23 nominations, received from nine member states and one inter-governmental organisation, four should receive Certificates of Commendation and six should receive Letters of Commendation.
Another Indian to receive a commendation during the ceremony in London was B M Das, Uttam Navik, a winch operator and diver of the rescue helicopter CG 822, Indian Coast Guard Air Station Daman.
He was also nominated by India for rescuing all 14 crew members of the merchant ship 'Coastal Pride', which capsized and eventually sank.
Source: NDTV