These are the contributors and facilitators for the programs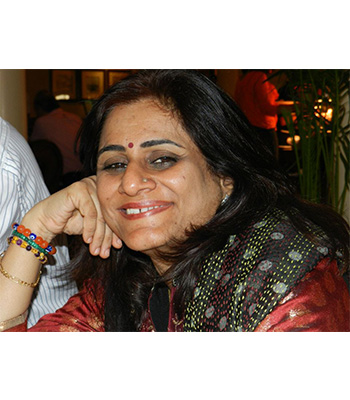 Alkaa
Khanna
Corporate Professional, painting for the last twenty five years.
My art forms explore the various media finding expression in oil, stained glass, water colours, pastels and tanjores.
Reason for participation - Art is a manifestation of life experiences gathering inspiration from nature, human experience and emotions. The result is an explosion of colours - colours of blooming flowers, celebration of life and the sheer fun of experimentation.
Making Gurgaon Beautiful is a great initiative by GAP and MCG. it is an honour for me to be a part of this initiative to make my city beautiful and full of life.
Anjali
Kanwar
Anjali Kanwar is an MBA from ICFAI Business School with 7 years of work experience with the corporate world as a Training Consultant. She has worked in MNCs like Genpact, Accenture and iGate Global. As a corporate trainer, she has delivered a wide variety of Soft Skills programs . To mention a few, programs in Spoken English, Voice & Accent, Business/E-mail Writing, Cross-Culture Orientation, Customer Service, Personality Development, Presentation Skills, Goal-setting, Team Building have been created and conducted by her. She has been appreciated and recognised for her excellent work.
Anjali founded Skilltude 3 years ago with a vision to upskill people in Soft Skills and enable the to reach newer heights in their professional and personal lives. She says " I believe the trainee's success is my success. For instance, when a trainee comes to Skilltude, learns and gets a better job at a better package in a reputed company, it's a win-win situation at both ends."
Ketaki
Malhotra
Founder, Istaka Consulting
Ketaki is an HR professional with over 25 years of experience across various aspects of Human Resources. With deep expertise in Talent Management, she has been instrumental in building client organization's capability and also partnered to create organizations capable of delivering on the company's goals.
Ketaki founded Iṣṭaka Consulting, a people development firm, in 2009. Ketaki leverages her experience both as an HR and Performance enhancement practitioner, as well as consultant and advisor to help clients design culture related or targeted leadership development interventions including leadership assessments as well as action learning programs. She delivers workshops that enhance people management skills with the added focus on helping organisations build a culture that is aligned with their vision and goals.
More Details
Manissha
Khanna
An accomplishedartist with more than 2 decades of experience in artistic pursuits and 40 art shows- national , international and auctions collectively. She trained herself for using Art as Therapy from Lasalle College of the Arts, Singapore after graduation from Delhi University and Corporate Social Responsibility from United Nations Institute for Training and Researchto work as a CSR Consultant with Corporates and NGO's offering art and design consultancy services with a focus on enhancing creativity and skill development.
She is offering consultancy services to Corporate : Godfrey Philips India Limited and NGO's : Action Center for Transformation mainly working on skill development of women. Art as therapy at NGO's : Muskaan, Akshay Pratishthan, Aga Khan Foundation. She is Board Advisory : Ancient Arts Society&Member at Art Therapists Association of Singapore
More Details
Meenakshi M.
Singh
Meenakshi M. Singh is a rainbow woman. She is a prolific poet writing in English and Hindi, published author of two books "Soulful Symphony" & "Aawaz" and her body of work is published in various national and international anthologies, a mom, entrepreneur, and a certified creative writer. Recently she won three awards in 2015 for her contribution in writing and teaching, Magicka Women's achiever's award and Pride of Women award by Aagaman group and Sashakt Nari Parishad - Pride of nation award. She was one of the host in Delhi Poetry Festival 3 having Javed Akhtar, Muzaffar Ali, Prasoon Joshi as guests.
Meenakshi is Masters in Software systems, an IT professional with rich corporate experience of 10 years working in various MNCs. Being a Deputy Manager in an IT firm, she got her ultimate promotion in being a mother of twin daughters. After 10 years of rich IT experience as a software professional, Meenakshi found her true calling of life in writing and is passionate about the power of written word.
More Details
Mona
Dutta
HR and Diversity & Inclusion Consultant
Mona Dutta is Founder And Associate Partner at Shakti Consulting. A versatile and dynamic Diversity and Inclusion, and HR Consultant with a background in Talent Management Processes, General Management, HR Shared Services delivery, Governance, Policy creation and implementation, Strategy, Operations, HCM Processes, Technology and Change Management, People Process Transformation, HR Metrics and Analytics, Training and Development and a total work experience of 20 years.
She is also a Coach and Mentor to several women and men in the Corporate and non-Corporate sectors.
More Details
Nisha
Singh
Post Graduate from Delhi University , Computer Science degree from NIIT and also B Ed, I have worked as a teacher in Airforce School and also a Public School in Delhi. Being a part of Airforce community, had been part of cultural committee and helped organized many events in the past.
Earlier this year in March, I was a very active of team GAP and helped organize Gurgaon Artistes Fest.
I am also an an active member of Harabhara Gurgaon which actively takes various initiatives towards greening of Gurgaon. I am proud to mention here that recently we converted Katchra Chowk to Khushboo Chowk by cleaning and planting fragrant plants and now installing different artworks there.
Recently I have joined Project Saahas - a women to women program to empower the girls, recently launched in a Govt College and actively participating as a coordinator.
Pooja
Srivastava
Pooja Srivastava is a multi facet personality passionate towards creativity and with a responsible thinking for social welfare.
After completing her Masters in Computer Application from Allahabad, the city of Kumbh Mela and Sangam, she moved to NCR with lot of dreams, energy and phenomenal attitude.
Somewhere her lively persona and emotional quotient has kept her attached with kids and youngsters all way around. During her study days she never missed any opportunity to interact with needy, poor and specially kids. Working with SMILE Foundation, Aroh and Bhoomi has added a different dimension to her exposure towards world in need.
She founded Anubhuti Foundation the campaign against child sexual and drug abuse and has dropped efforts in spreading awareness in more than 2000 kids till date.
Interactive communication and Theatrical representation of story is a connecting mode which has been very strong method for Pooja. In all these 10 years Pooja has been a serious campaigner working for society and Anubhuti, her work, has been a eye opener for many.
Sandhya
Pathak
Sandhya is a Corporate Trainer and Communication Coach who brings with her almost 13 years of extensive experience in facilitation, coaching, content development, training design and delivery. She has worked closely with training teams to conduct need identification coupled with gap analysis to develop customized programs and content that supports overall corporate objectives.
She specializes in the delivery of Business Communication, Presentation Skills, Customer Service, Negotiation, Interpersonal, Personal Effectiveness and Time Management Programs. Her practical yet personalized approach creates a proper synthesis of learning and training objectives with learners needs. She has been certified through Lead Training Train the Trainer Program in New Delhi.
More Details
Shalini
Tayal
Shalini is a renowned trainer, storyteller, an educator, academician and an administrator. She started her career in software development and worked in Delhi and Mumbai for 4 years.
Later, she enjoyed 12 fruitful years of administrative and teaching experience in Hyderabad and Mumbai. Once she moved to Gurgaon in 2008, she started writing curriculum books for Educomp wherein she helped design books in Mathematics and History for the middle school children.
More Details
Shalini
Venugopal
Shalini Venugopal, has been living in Gurgaon for the past 7 years, is a social entrepreneur with a Green twist with varied interests ranging from Gardening, Photography & Music to participating in car rallies. As someone who has been an integral part of the Round Table movement for over 5 years having made contributions to the FTE (Freedom Thru Education) program through projects activities, which she carries through her involvement in various forums across Gurgaon. She is also an efficient homemaker and devotes significant time to her 2 children and family with equal zeal and energy.
She is a social entrepreneur with a Green twist with varied interests ranging from Gardening, Photography & Music to participating in car rallies. As someone who has been an integral part of the Round Table movement for over 5 years having made contributions to the FTE (Freedom Thru Education) program through projects activities, which she carries through her involvement in various forums across Gurgaon.
Sunita
Biddu
Sashakt partner, Speaker, Power Blogging Coach & Social Media Advisor
I would be happy to help you with a game plan to achieve this goal by powering up your online presence. I'm enjoying a blissful life with only 3 working hours a day routine. You too, CAN!
I take personal one-on-one coaching, group programs as well as on-site team trainings on request.
More Details
Teenu
Bawa
Founder Director at ImageMatterz, Personal styling and Branding Consultant
Qualified and certified Image Consultant from the Image Consulting Business Institute and trained under the curriculum of Conselle Institute of Image Management,USA.
Also a certified Soft Skill Trainer with a certification in Train The Trainer(TTT) from Image. Consulting Business Institute,which is accredited to National Board for Education and Training(NABET)and Scottish Qualification Authority(SQA).
More Details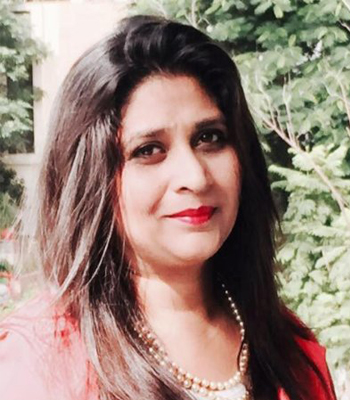 Vibha
Pandey
An Entrepreneur
an IT professional and now entrepreneur with around twenty years of experience. She has been engaged in social work while being at corporates and leading the projects by working with NGOs to utilize the funding approved by her employers.
Yoshita Swarup
Sharma
A leadership coach and professional facilitator in soft skills, Yoshita has several years of experience working with the corporate sector before starting her own venture.
What the caterpillar calls the end of the world, the Master calls a butterfly" Yoshita lives life by the famous lines of Richard Bach. She is a management graduate from Symbiosis Institute of Business Management and economics graduate From Hansraj College, Delhi University. She has been an accomplished marketing professional before embarking on a second career in the domain of people transformation.
Driven by her deep desire to find a way of life where professional and personal growth overlap, she consciously chose to give up a very successful marketing career (having worked at Coca-Cola, Dabur India & Ranbaxy over 12 years, last handling a business turnover of about Rs.100cr, running the rapidly growing and highly profitable OTC portfolio of Volini.) She followed her heart to join Pragati Leadership as a Facilitator & Coach.
Yoshita is a certified Leadership & Life Coach, Facilitator, certified Strengthscope & MBTI Practitioner. She has almost 5 years of experience in facilitating workshops at mid to senior levels of leadership and over 300 hours of Leadership Coaching and 2500 hours of facilitation
Clients that she has worked for over the years include the best names from BFSI, Manufacturing, IT-ES and even NGO/ Govt including HDFC Bank, Suzuki Motors, SAP, JLL, Siemens, Anand University, SOS Children's Village, SAP, Hero Motocorp, US FDA (US Embassy), Convergys, L&T Technology Services, ACC Limited, Ranbaxy, Intec Capital, New Delhi Municipal Corporation, Times OOH, Cairn Energy, Atlas Copco, Tata Motors, Bharti Realty, Godrej & Boyce, Domino Printech.
Yoshita is extremely passionate about spreading Inner Transformation Work as she believes it transformed her life almost magically! She also facilitates workshops on Reclaiming the Inner Child.