Woman's head shaved off by husband, in-laws after she gave birth to second girl child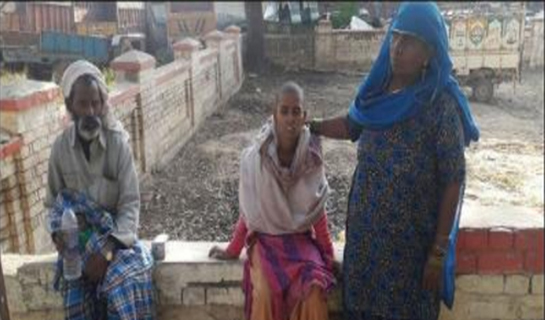 At a time when the central government is emphasising on empowering and securing the girl child with the slogan 'Beti bachao beti padhao', in Agra a woman's head was allegedly shaved off and she was physically assaulted by her in-laws after she gave birth to second girl child.
The victim, who is suffering from anemia, gave written complaint to police against her husband and in-laws at Malpura police station.
As per complaint letter, Nannu, the victim, has been married to Rashid for the last seven years who is a tempo driver. The couple had a four-year-old daughter. In the third week of November month, the victim gave birth to another girl child.
"Since the birth of second girl, my husband and in-laws have been mentally and physically torturing and assaulting me. They even shaved off my head," stated the complaint letter of the victim.
Speaking to TOI, victim's sister-in-law (brother's wife) Praveen Banu said, "On November 27, Rashid shaved off the head of Nannu and threw her out of home. Her 13-day-old baby girl kept on crying for milk but the family did not let the woman meet her child. The emotionally tormented woman returned to her parent's home on Monday and narrated the ordeal she faced after the second girl child birth."
"The seven-year long marriage of Nannu has made her emotionally weak and mentally unstable due to continues harassment and assault by in-laws and husband. Currently, she is suffering from anemia and needs four units of blood," said Praveen Banu.
Speaking to TOI, Uttamchand Patel, station officer of Malpura, said, "Since the woman is physically week, we have asked her husband to take her to hospital and get her treated."
He said, "Nannu's family has withdrawn the complaint against her husband, as they want the couple to live together and take care of the two daughters."
According to sources, after hearing the ordeal of Nannu, police detained five family members, including Rashid, and warned him to take stringent action against them, if they did not took care of the victim.
When TOI contacted deputy superintendent of police and circle officer of Achnera, Ravikant Parashar, he declined to have any knowledge about the incident, while SSP Preetinder Singh did not respond to TOI call.
By the time, this report was filed, Nannu's 13-day- old daughter was brought to her, after which she breastfed her.
Sources: Times Of India